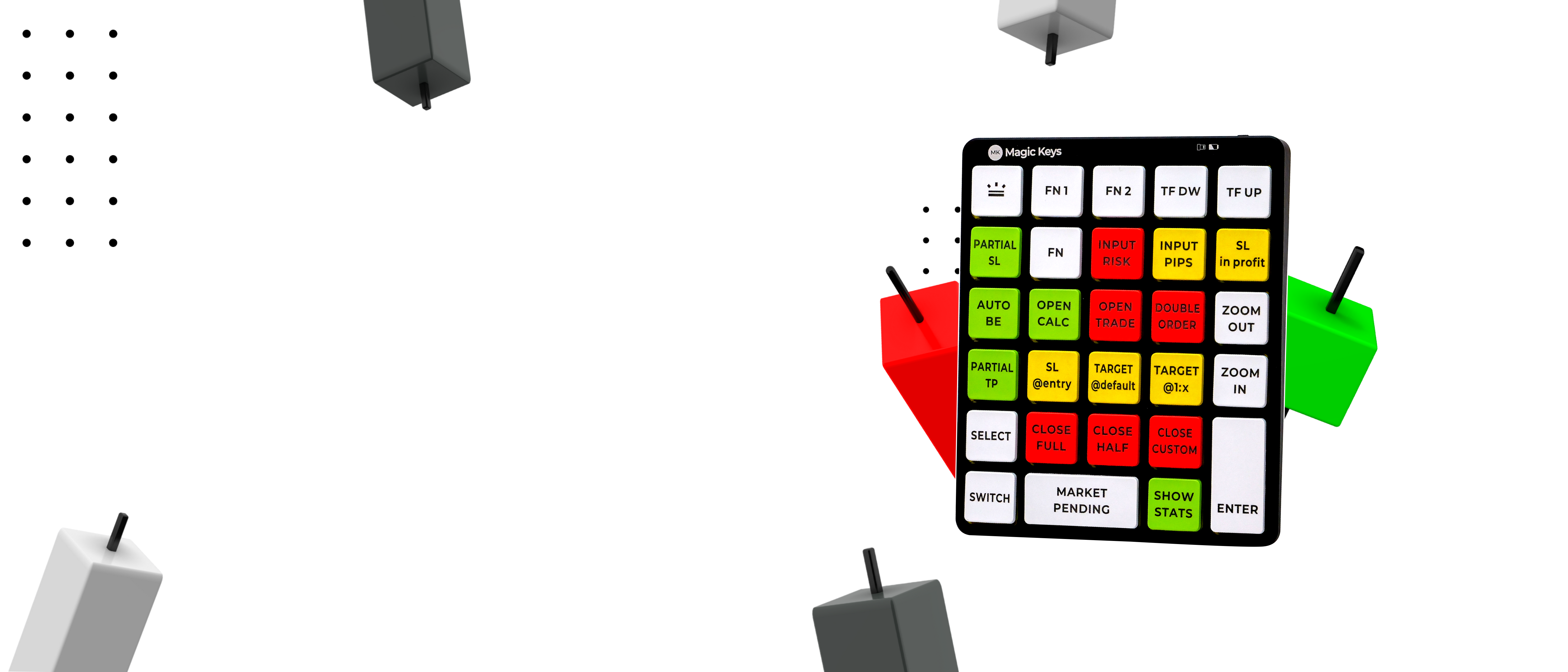 Unlock Success with Effective Risk Management
Now compatible with both Mac and Windows, cTrader and Metatrader
Buy | Black Friday Sale
Lot Size Calculator with a Magic touch
❤️ A tool for making trading more immediate and precise
🤝 Trusted by more than 42 000 customers
Benefits
Successful traders always manage risk
All of us traders share common patterns on the market! Why not do them in a more fashionable and efficient way!
Manage risk
Open orders based on your risk parameters just with a key press, lot sizes are automatically calculated
Automatic trade management
Set automatic trade management with ease. Set your break-even and multiple partial take-out triggers.
Easy trade exiting
Close entire positions or partials, move stop-loss and take-profit prices to preset levels or just type the amount of pips
Trading limits
The trading limits panel aims to keep you away from overtrading by clearly showing you when your trading limitations for the day have been reached
Statistics
Get statistics on your performance on individual instruments and get an insight on what you are risking before placing a trade
It just feels so good in your hands
Aluminium case, Backlit keys
Version 3 comes in a CNC machined aluminum case with perfect edges. Backlit keys will help with night time trading. The new chip opens doors for Mac compatibility and more stable connectivity.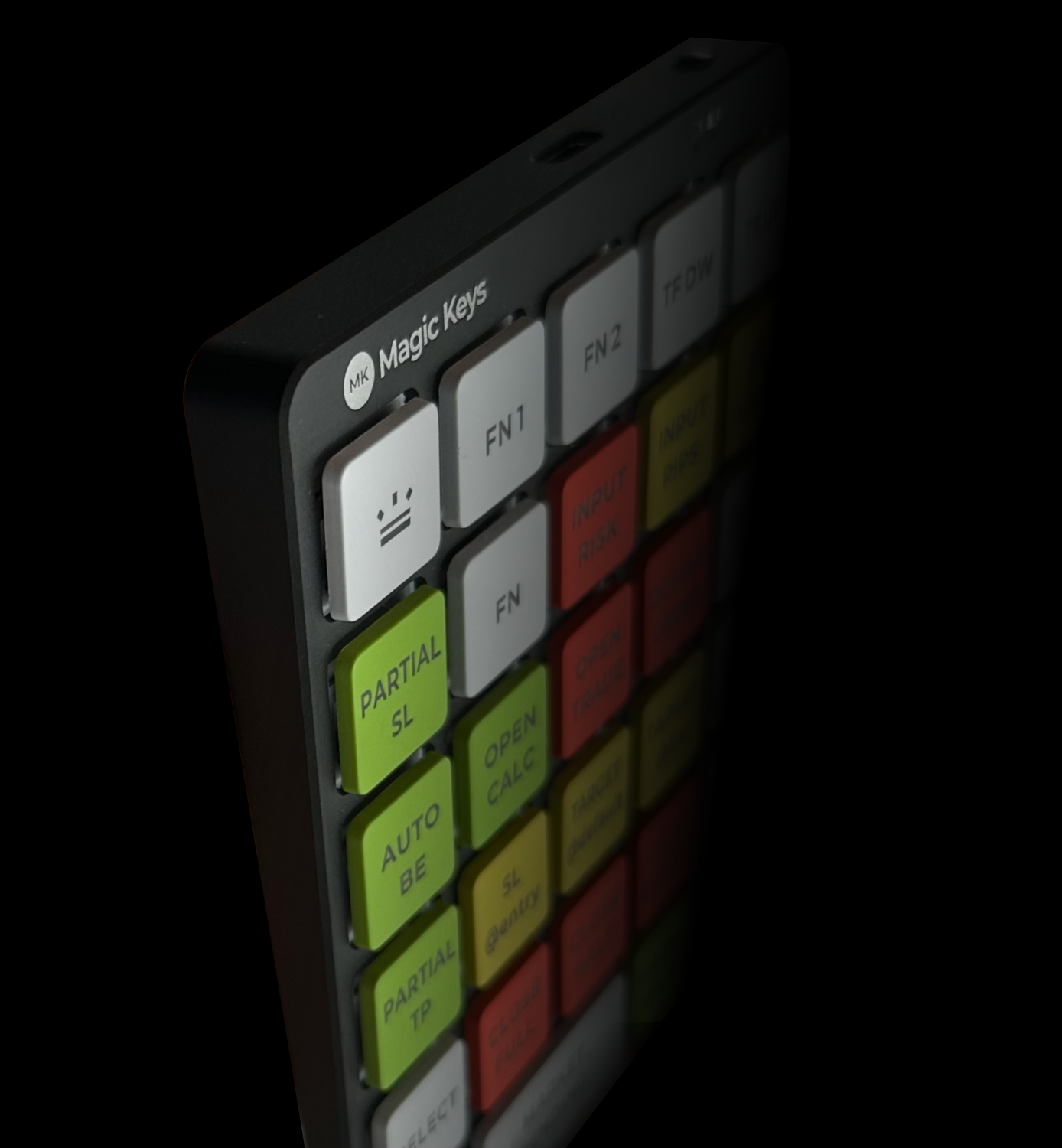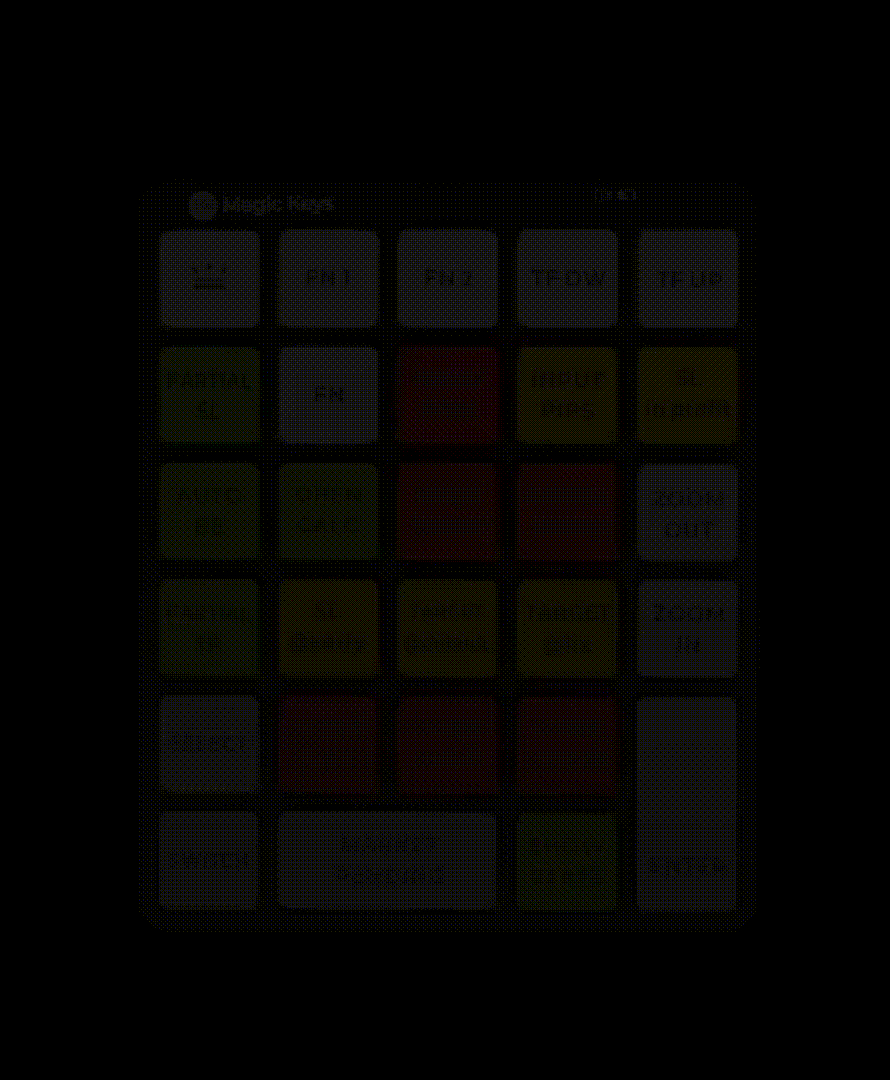 A tool for making trading more immediate and precise
You'll like Magic Keys at least as much as you like 🍕

Maximize profits
Take advantage of the compounding magic and grow exponentially your account

Improvement
Stay always on top of your emotions and improve performance
Efficiency
Focus on trading, not on clicking here and ther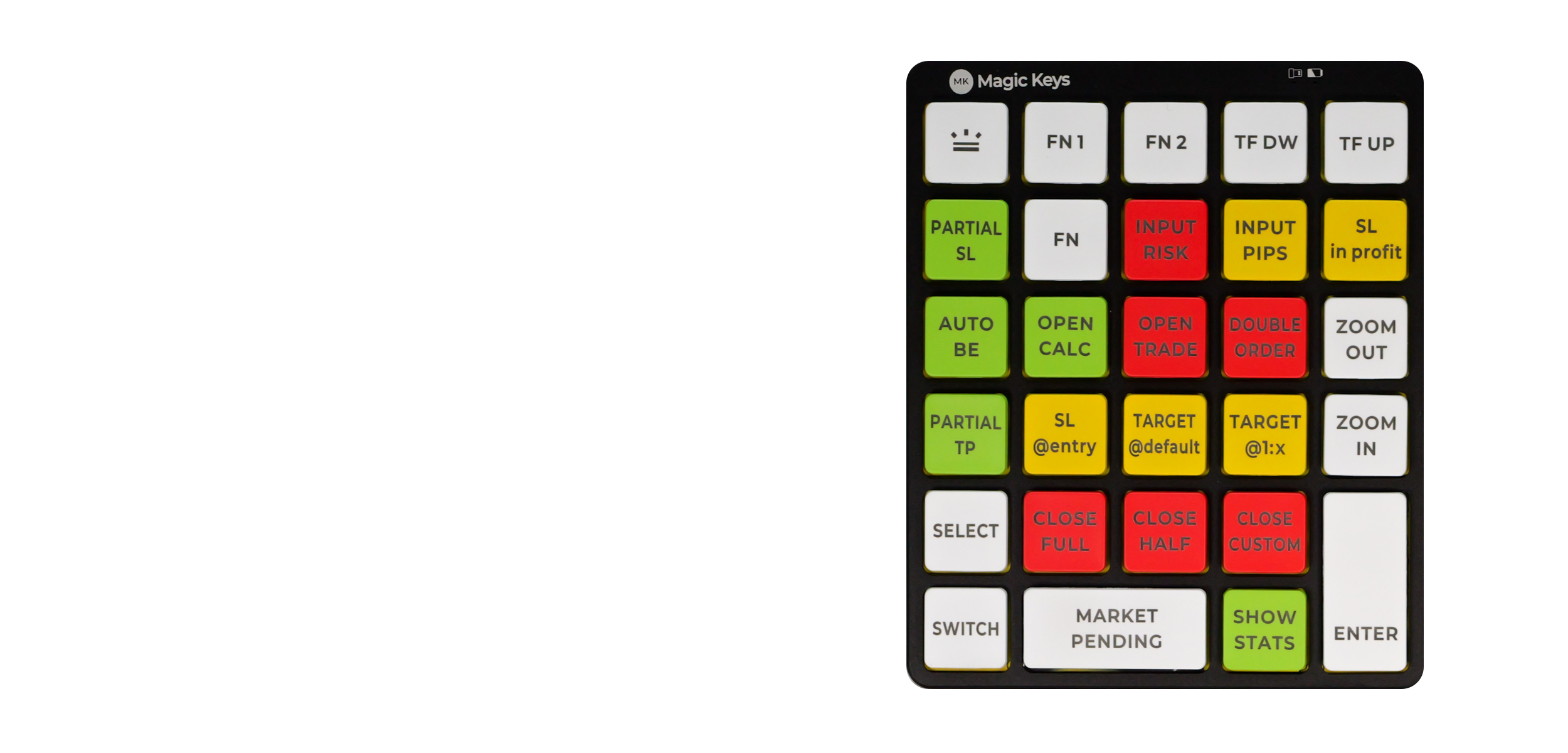 Quick action buttons
Use quick actions buttons to manage your trades effectively. These buttons help you in different ways absed on what action you are taking.
Set and Open trade
Prepare your trade levels and enter the market immediately by getting risk calculated for you
Close trade
Scaling out is an effective way to lower the amount risked when the trade goes against you, and s simple way to secure profits on the way up
Moving around
Quickly move thorugh charts and timeframes
Triggers
Set automatic triggers for you trade and enjoy hassle free trade management. Partial SL, Auto breakeven and multiple partial TPs.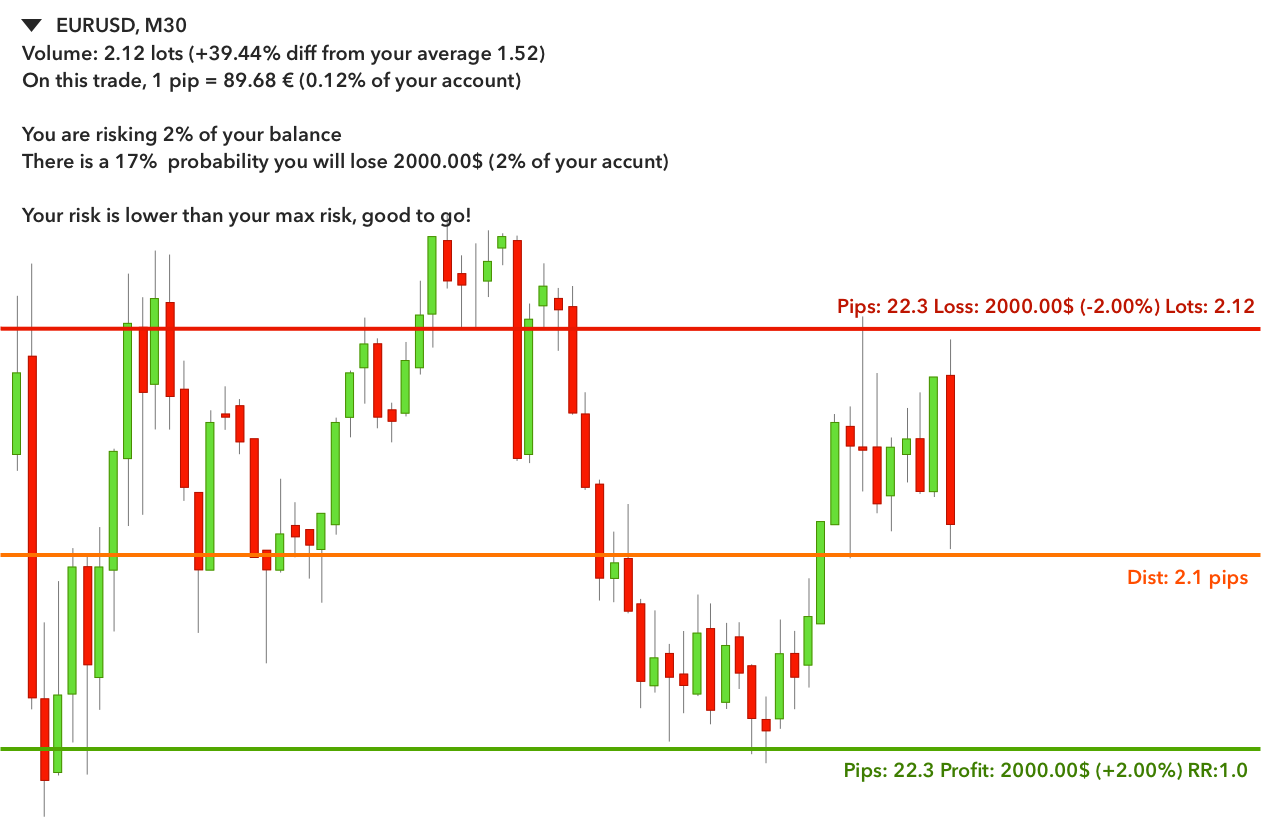 Planning a trade
Plan your trades before executing. Lot sizes will be calulated according to risk parameters.
Hit Open Trade and that's it!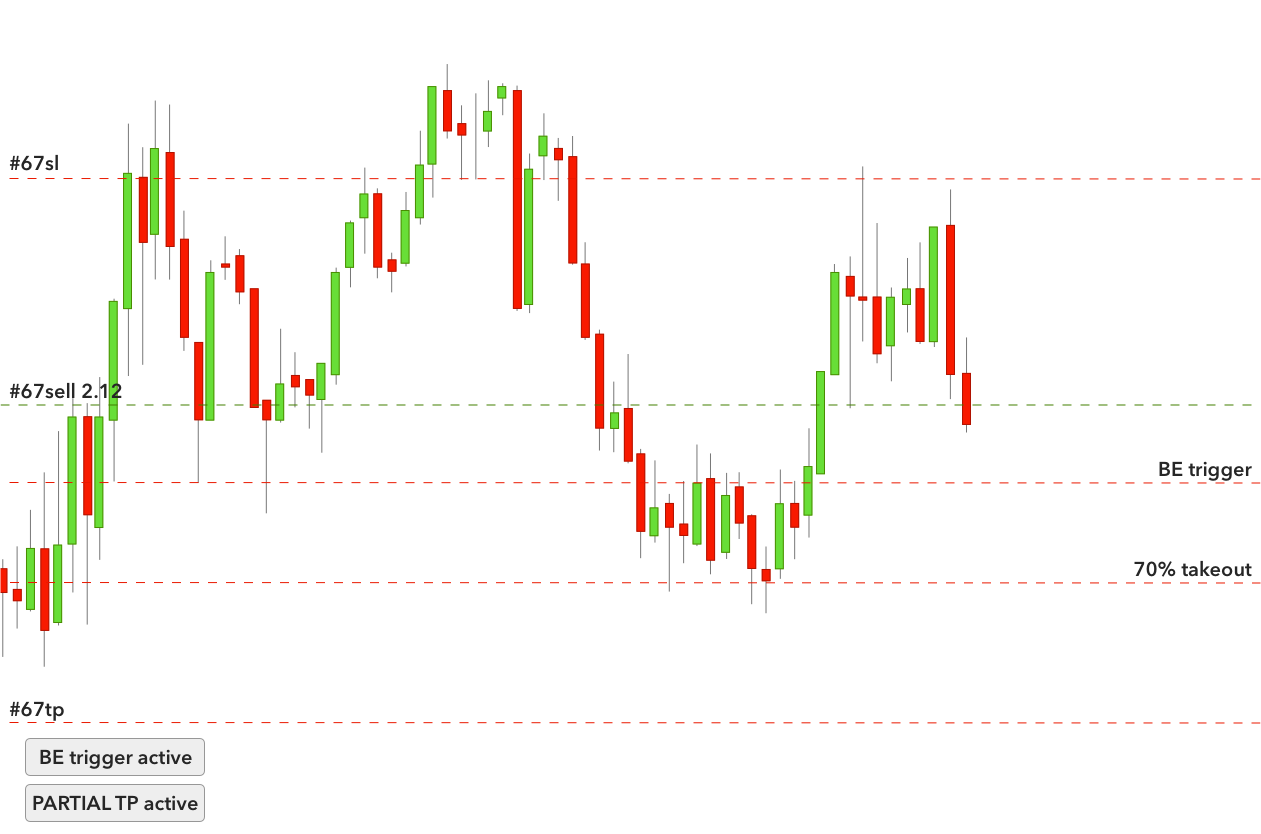 Automate things
Protect and get the most out of your trades by using triggers - actions that are performed when a specific price is hit.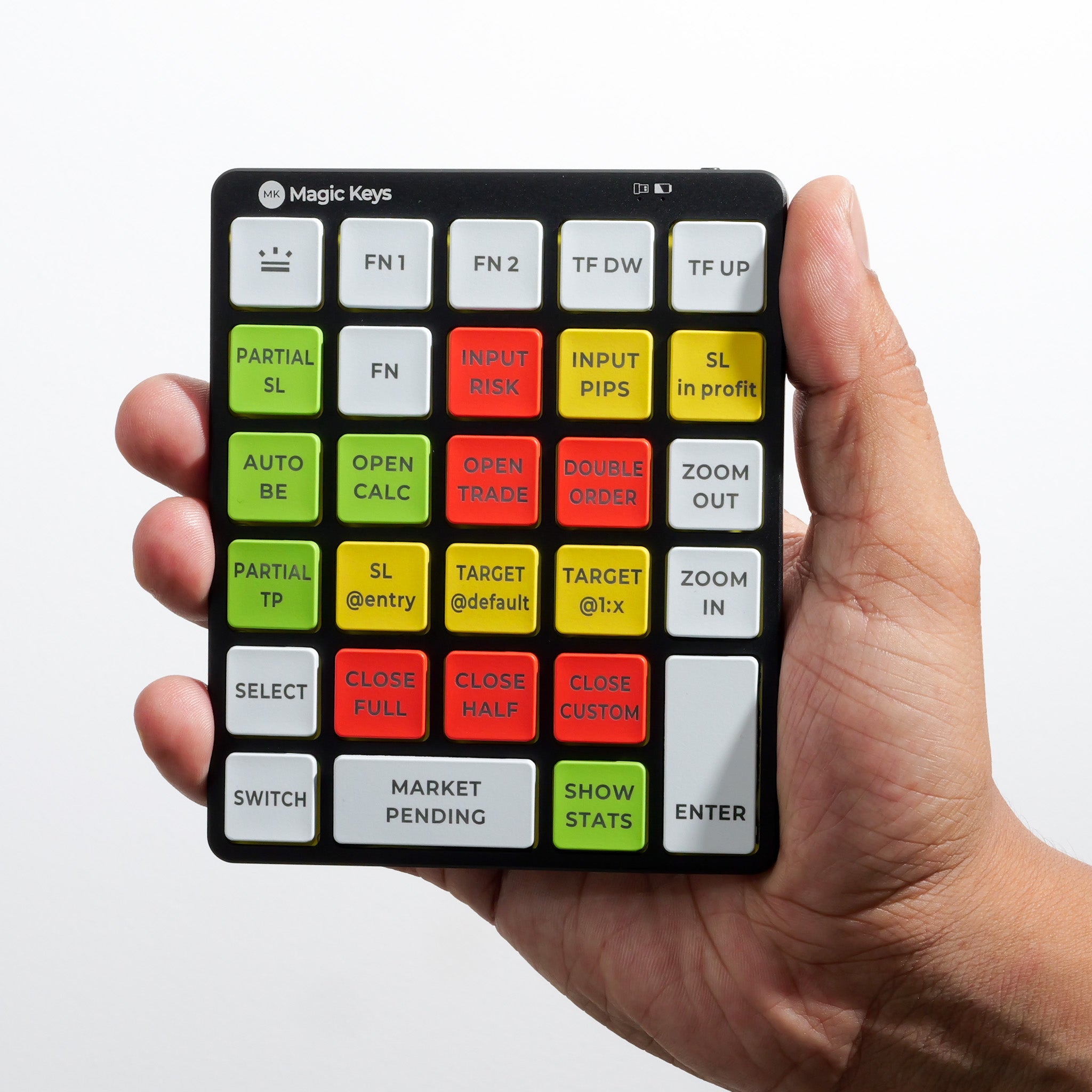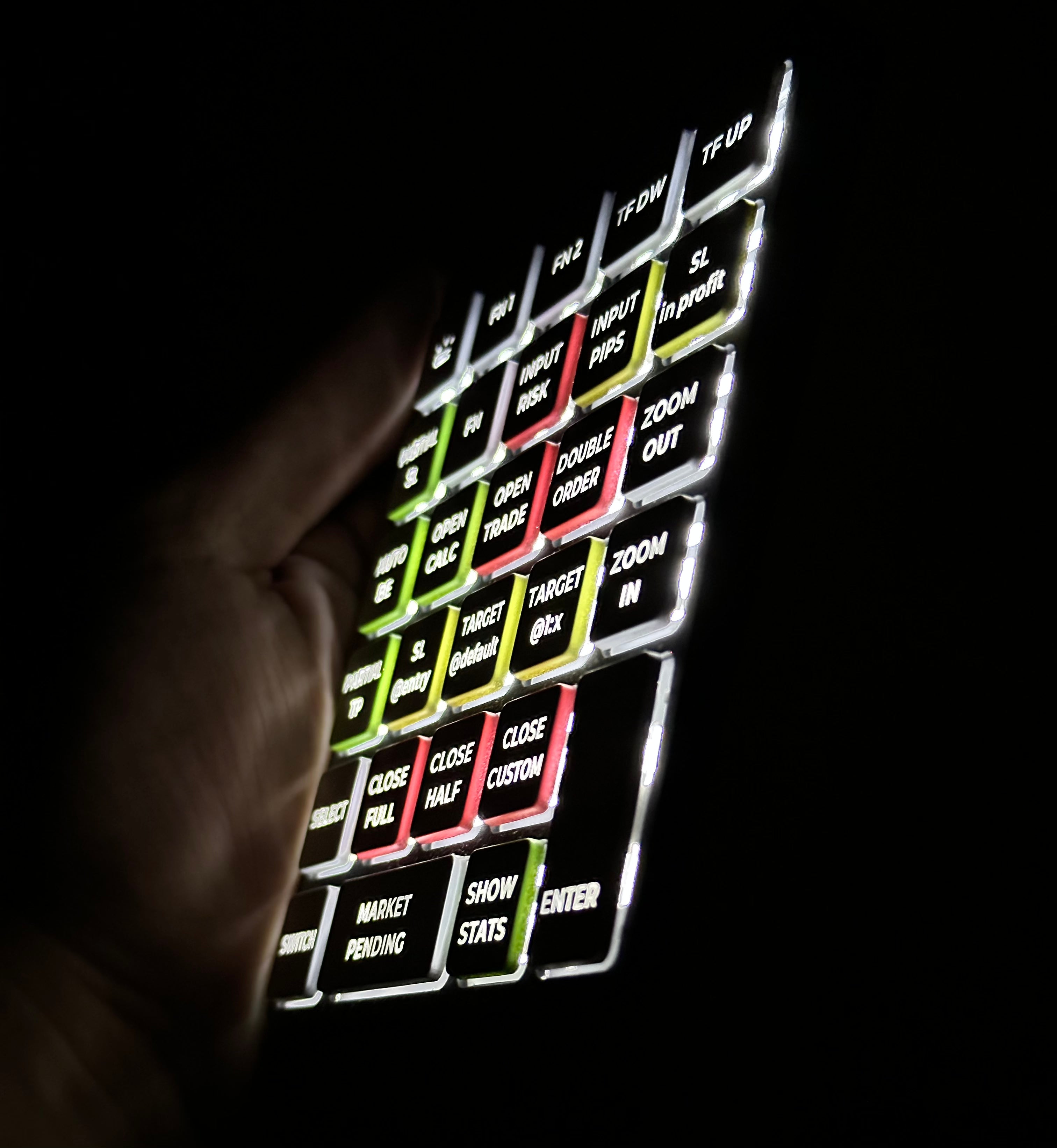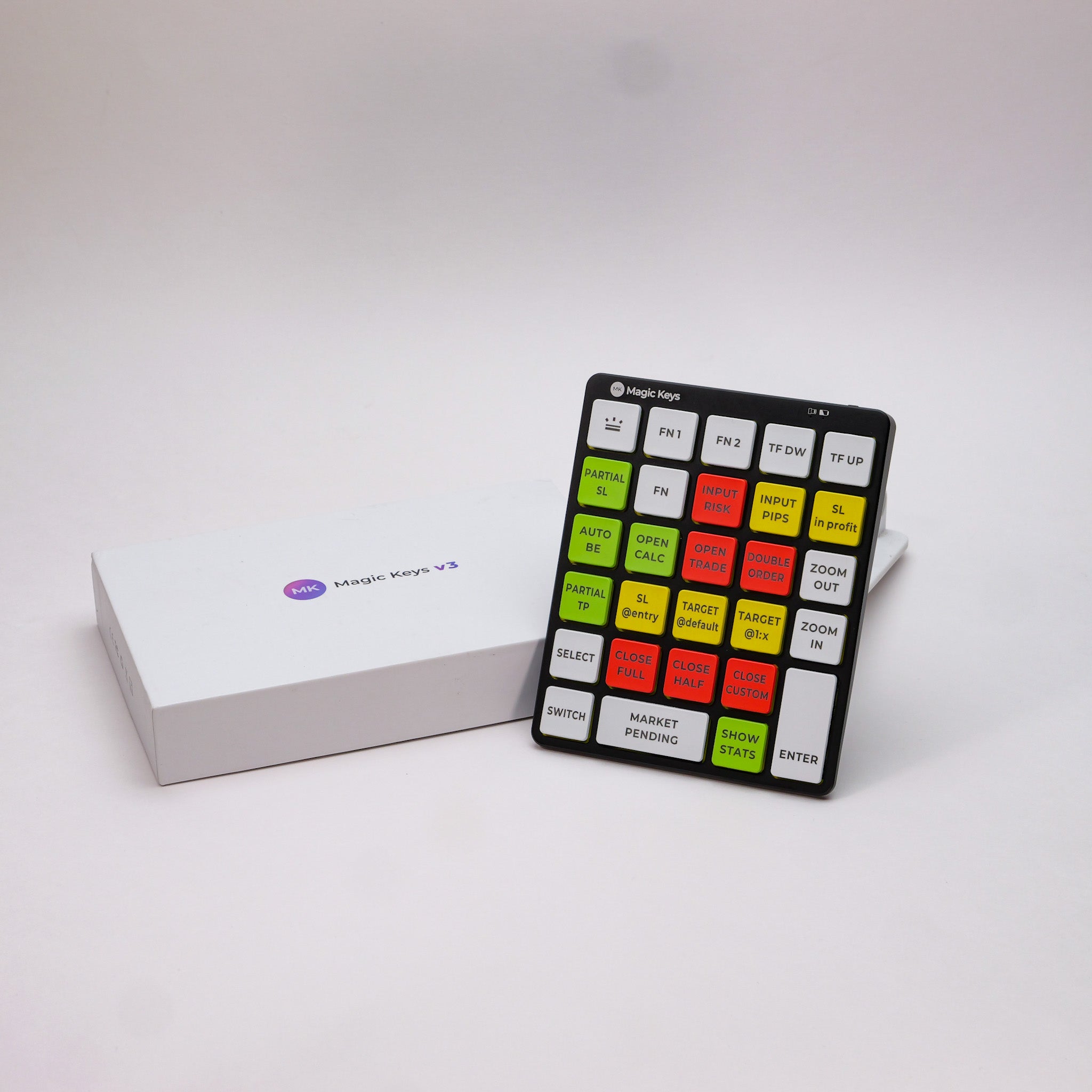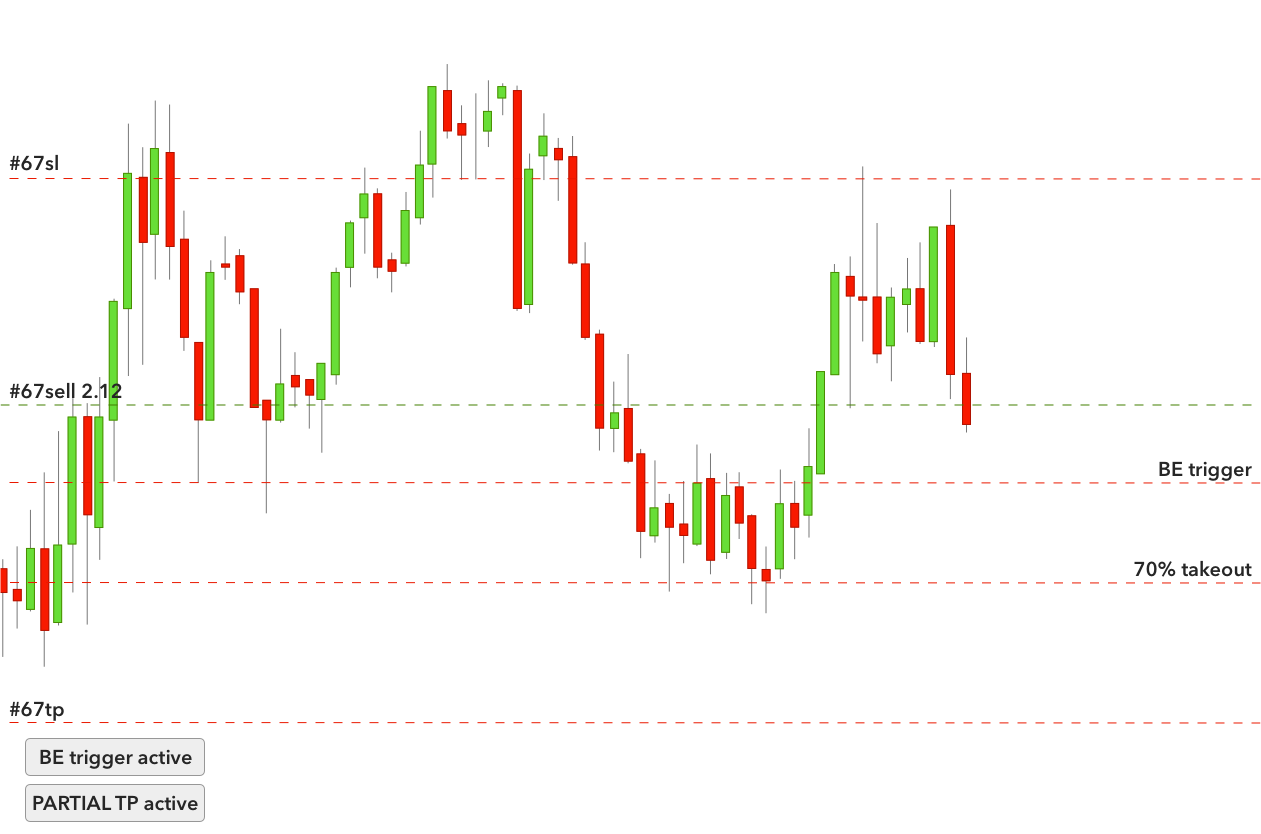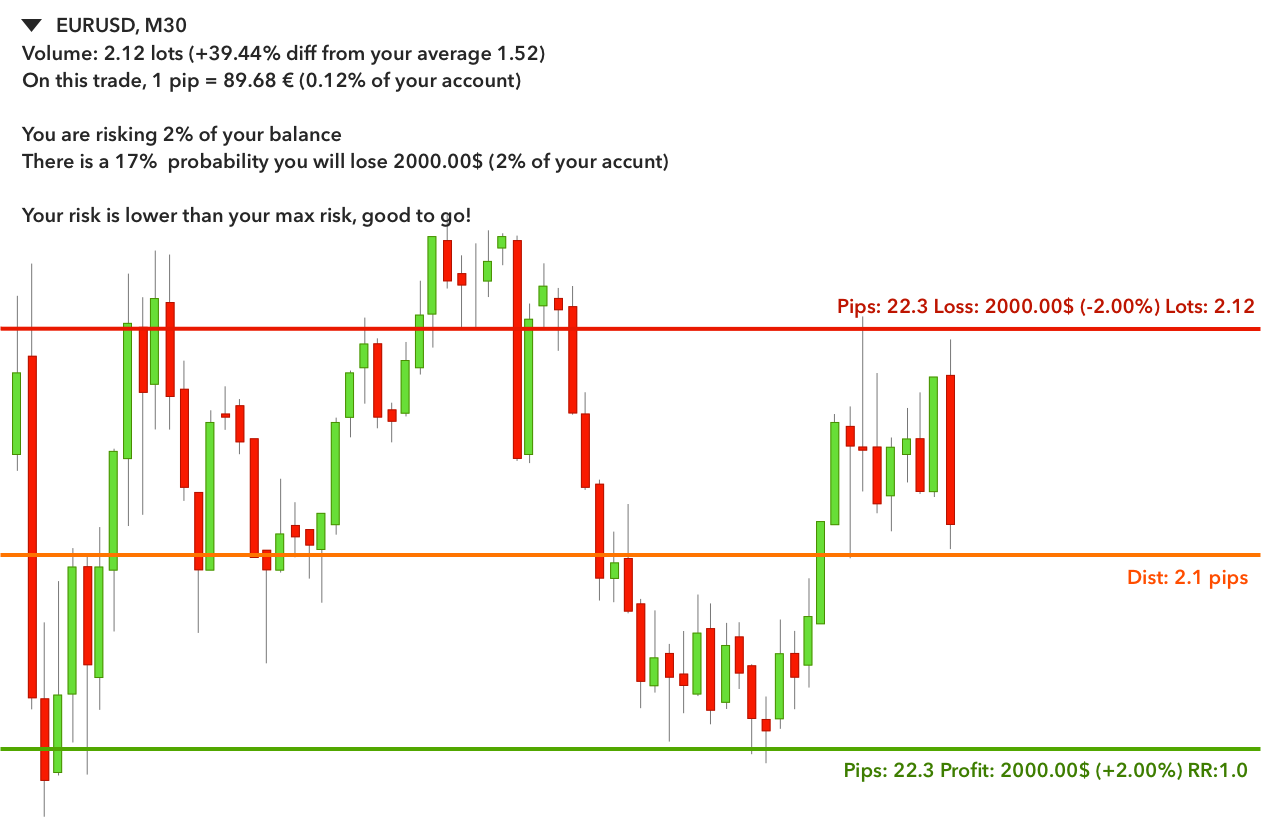 Get 30% off w/code BFCM30
---
Great finish, Aluminun Case and Backlit Keys 😉
A hand held device to help you level up your trading. Get lot sizes automatically calculated. Set automatic triggers to protect your valuable trades. Manage risk like a pro!
*one-time purchase
On-Screen version
If a physical product is not what you want, we have a Digital Magic Keys
Processing might take up to 3 business days because of the large amount of orders we are receiving
Yes, we ship all over the world. Shipping is free to all major destinations. If any fee applies, it will be shown at checkout.
How long will it take to get my orders?

It depends on where you are. Shipments can take from 1 to 8 days. FedEx International Priority deliveries can take anywhere from 1 to 3 days. Delivery details will be provided via email.
Yes, it does. Windowd 64 bit architecture is required for the software to run. A USB port is required for the receiver to be connected.
Magic Keys V3 and On Screen are natively compatible with Mac OS (version >= 11.5).

Previous models can be used on Mac by virtualizing Windows 64 bit with Parallels Desktop or Virtual Box or VMWare Fusion.
With which trading platforms is the software compatible with?

Magic Keys is compatible with both MT4 and MT5 and cTrader.
Can it be used for trading indices, crypto or stocks?

Magic Keys can operate on all instruments tradable through Metatrader or cTrader.
Does it work on mobile/tablet?

No. Mobile versions of the trading platforms do not allow us to run custom software and that is needed for every external integration.
How does it connect to the computer?

The physical version comes with a wireless standard USB receiver dongle. There is a cable too, which is for charging purposes only.
Can I have multiple platforms open at the same time while using MK?

In any situation you cannot have Metatrader and cTrader open at the same time.

With the physical verision, you can have multiple MT instances and only the one in focus at that time will get the commands from the device.

With the On Screen all open instances will get the commands and that can lead to unplanned situations.